Hello, Everyone!
We wanted to update you on our progress. We're behind our schedule. By this point we wanted to share much more content with you and to have the game in a more polished state.
But still we've made significant progress over the last 4 months and also faced new challenges.
Milestones
The part of the game that we wanted to show you is still in late alpha stage and needs more work to be considered a beta. Realistically, we'll not polish it this year.
But all the core systems are almost there and our milestone for December is to run performance tests on the actual infrastructure that we'll be running beta later (with all the systems working together). Catch all major net code bugs, find bottlenecks and test client performance on a wider spectrum of configurations.
We'll bring in friends, family, bots and external QA teams, and post an update on how it went.
Next we'll be polishing the game till the end of winter and will share an update on our progress in early spring as well as expected beta dates (which would be around mid- to late spring).
You're probably disappointed to wait few more months, and that's reasonable. But we think that's the only right way to go for the quality of the game, for our community and the team.
Artificial Core is not a studio with an excess of resources and we've been funding development for many years now. Every month of delay is hard on us too. To our morale and also from a business perspective. But we believe in what we do, our vision and purpose.
It's not the first time that we ask you to have patience with us and wait a little bit more. Corepunk is shaping up to be a great game. We don't want to mess it up near the finish line and make a lot of mistakes with hasty moves. We think you're gonna appreciate the result when it's actually ready.
Web Apps
The new website and forum were ready almost 3 months ago. Then we collaborated with security firms to do white-hat hacking and penetration testing on our infrastructure. We got the report on the issues they found. But because we didn't want to lock our content and game design teams, we decided to focus developers on the game and do security fixes closer to actual tests.
So the site's release is on hold only due to its priority level. Meanwhile we've been adding front end animations here and there. We'll release it early next year when we improve its security up to international standards.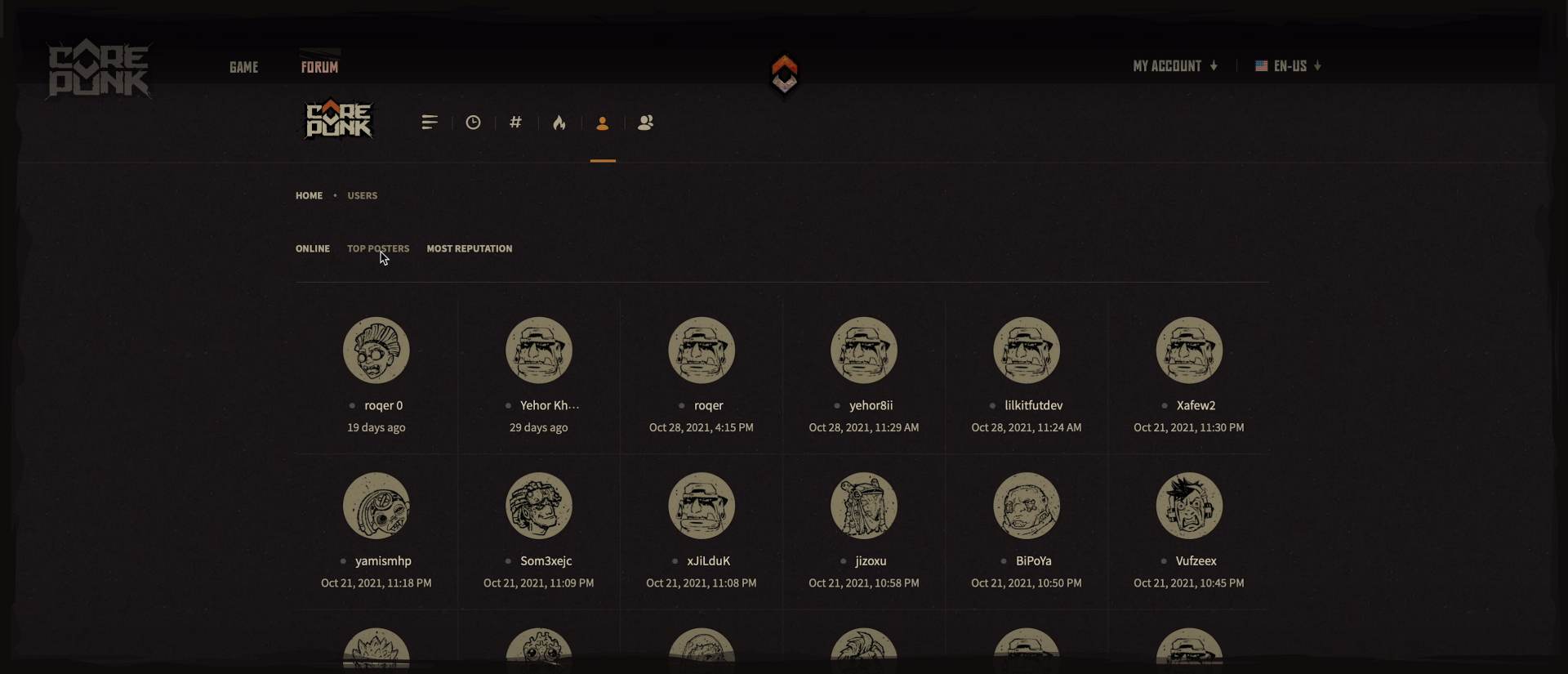 Radio Silence and Focus
During the first year after announcement we were more forthcoming communicating with you on a regular basis, we did more news posts, videos and appeared in Discord and forums more often to just talk to you. And we enjoyed it, had a really good time and definitely would love to come back to that.
This year it's different but not because we don't want to. We had to become very rational about how we manage our resources and focus all of our energy on delivering a great gameplay experience sooner.
After the beta it will be much easier for us. We'll streamline development and it will take much less effort to prepare content to talk about. As well as less stress due to missed milestones.
Thank you for you support. A huge part of our energy comes from our community. Every cheerful post on YouTube, every heated discussion in Discord, insightful post on forum, or you finding time to watch this. It all means a lot to us. It means you care, and it means what we do matters.
We're working on it.